What is Uni-Turf?
Uni-Turf is a high quality, embossed vinyl sheet material that has a world renowned reputation as an excellent surface for sports halls especially for cricket but also tennis, badminton and athletics.
There is really nothing else out there like Uni-Turf. Sports Surfaces UK Ltd supply & install it by manufacturer trained installation teams. Its anti-reflective embossed surface ensures a more positive true bounce with the added ability to take spin when cricket is played which makes it easy to understand why Uni-Turf is a popular choice in the punishing environment of major indoor cricket schools.
There is a tremendous amount of experience built into Uni-Turf including a world-wide knowledge of putting synthetic sports surfaces to use for widely differing activities. Uni-turf can be installed directly onto concrete or with a granular rubber under pad which meets the European Standard for sports hall floors, the EN14904 and the ECB TS3 specification for cricket as a prime sport.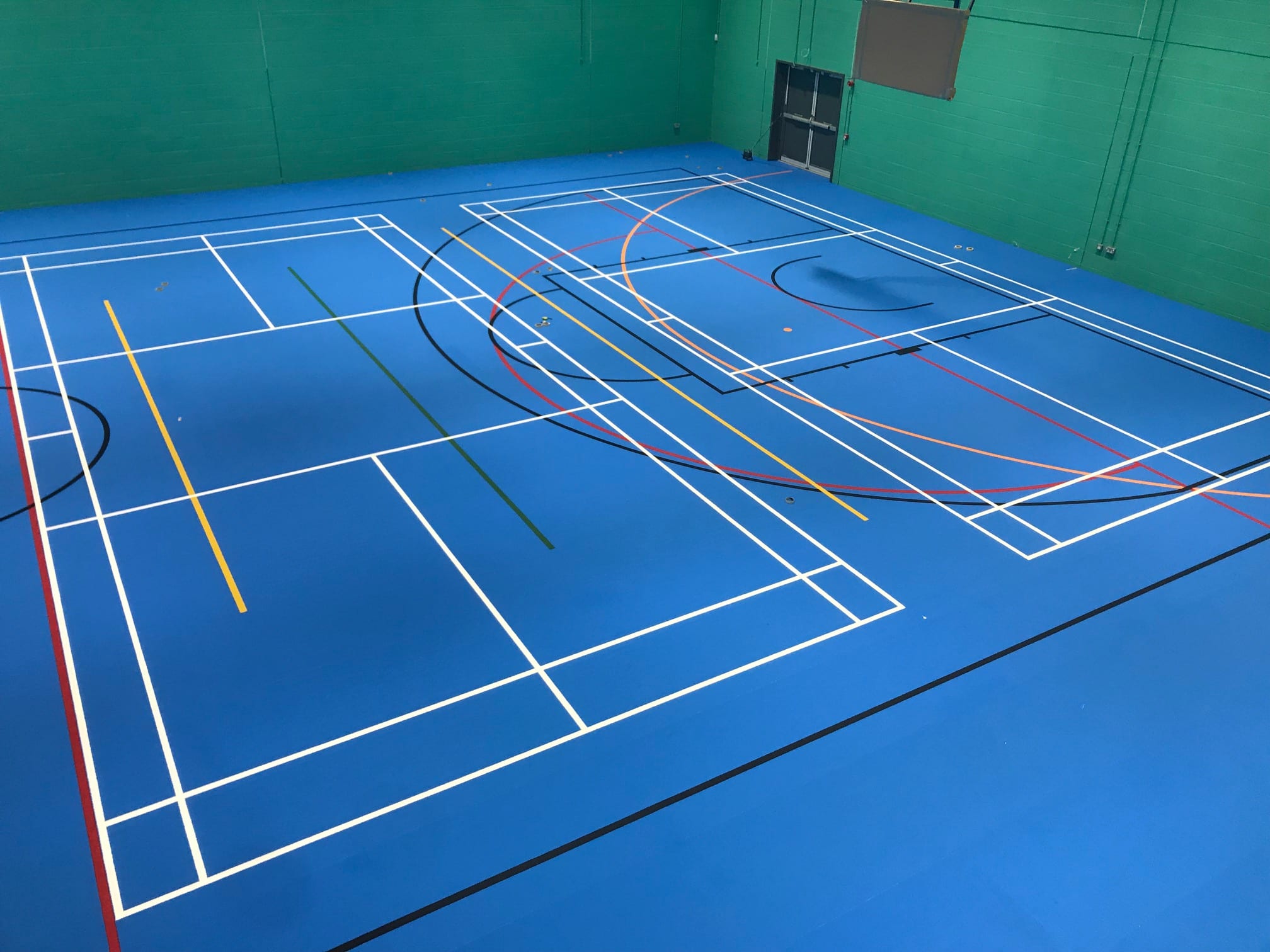 Where is Uni-Turf used?
We find Uni-turf is a popular product for use in schools this can include both new-build projects and refurbishments; King John Academy in Benfleet originally had a tired woodblock floor over which we installed Uni-Turf with a rubber shock pad (meeting EN 14904 and the ECB TS3 standards). This surface is used for just about everything such as cricket, netball, hockey and basketball along with non-sport applications such as exams and parents evenings.
We supply and install Uni-Turf throughout the world; it is the first choice for many prestigious worldwide indoor Cricket Schools. Here in the UK alone we have supplied and installed Uni-turf at Lords, Headingley, The Oval, The Rose Bowl, Exeter Centre of Excellence and the National Sports Centre, Lilleshall to name but a few.
Overseas cricket markets include South Africa, where the country is rapidly upgrading its coaching facilities; installations include the Wanderers CC in Johannesburg and Kwazui Natal Cricket Union Indoor School at Kings Park in Durban. We have also completed several installations across Bangladesh, Pakistan & more recently in India for the BCCI as the Indian Cricket Board are insisting on Uni-Turf and state of the art facilities.
As well as cricket, Uni-turf is an exceptional tennis sports surface. Recent Sports Surfaces (UK) Ltd installations include Bodmin Tennis Centre and The PUMA Centre in Robin Park Wigan, both part of the LTA Indoor Tennis Initiative Programme. Overseas installations include the Czechoslovakian National Indoor Tennis Centre in Prague.
Sports Surfaces (UK) Ltd are also actively involved in Indoor Athletic Facilities where Uni-turf has been installed at Birmingham's National Indoor Arena, and Monkton Stadium, Jarrow and overseas installations include Ekerberghallen in Oslo, the scene of indoor world record breaking performances.
Long Life
Elastic and strong
Seamless
International certificates
Maximum sports comfort
Good balance
Vertical ball behavior
Clear line marking
No glare
Max. load-bearing properties
Wear-resistant coatings
Water-based coating
Excellent colourfastness
Soundproofing properties
Many colours and effects
Easy maintenance
Easy to clean
Easy to repair
"Lovely project carried our by a trustworthy and professional company. Will definitely be in touch over future projects."

Graeme Howard

SportsStrata
"Thank you for the refresh to the sports flooring. Our customers loved it."

Mile End Leisure Centre
"Many thanks for a high quality product and service."

RSU GYM FLOOR
"I would like to say a big thank you for the excellent service you & your team have provided in manufacturing the new gymnasium floor in the RSU. The finish is exceptional. Can you please pass my thanks onto Martin & Usman for their professional expertise in manufacturing the floor & their patience working around our damp floor problem & strict security requirements. Many thanks Clive. Clive Nutley Project Manager West London Mental Health NHS Trust Capital, Estates & Facilities Department Canal Mews St.. Bernard's Hospital"

St. Bernard's Hospital
Low Maintenance & On-going Maintenance
Uni-Turf requires little maintenance and comes with a world-wide sporting pedigree. It is the direct result of many years extensive research to produce just the right degree of cushioning, support and resilience for virtually every indoor sport.
Uni-Turf is very easy to care for it is an extremely resilient floor, that only requires a regular detergent wet wash – both the cleaning machine and detergent are supplied by ourselves. We also offer a Deep Clean service which brings the floor back to "as good as new."
Should the Uni-Turf surface get damaged or a heavily trafficked area get worn out (the bowlers run up or near a doorway for example), it can be remedied simply by removing and replacing with a new section of material within in a matter of hours, minimising down time for the use of the floor.
Additional Court Markings are very straightforward – our trained installers can complete additional courts within a few hours using line-paint specially developed for Uni-Turf surfaces.
The floor has been
installed at...
St Christophers School Academy Trust
Floor refurbishment
Base Prep: Uplift existing Uni-turf surface & skip (we supplied and installed a Uni-Turf floor for them in 2002 and they received a grant/budget to update their floor – they wanted the same floor again from us
Type: 6mm Uni-turf
Area: 30.04m x 18.02m = 541sqm
Line markings: 3 Badminton, 1 Basketball , 1 Netball 1 5-a-side,
3 No Cricket Creases
View Case Study